If you are an employer seeking a motivated, hardworking and diverse staff, hiring a refugee could be the right decision for you. Here are the strengths and benefits refugees can bring to your company:
Work Ready
Refugees are legally authorized to work upon entry to the United States. As employment is a central tenant of the refugee program, refugees are mandated to participate in job readiness and English classes during their initial months in the U.S.
Work Ethic
By definition, refugees are survivors of great adversity, having lost their homes, personal property and careers as they fled violence and persecution. Their need to regain self-sufficiency, their interest in acquiring new skills and their desire to attain economic stability for their families make them excellent prospects for hire.
Onboarding and Retention Support
Each refugee resettlement agency provides job placement and case management services for employable refugees. They often assist clients in completing new-hire paper work and can provide additional support during the employer orientation and training process. Resettlement agencies can additionally be called upon for mediation services if communication issues arise.
Completing the Form I-9 Employment Eligibility Verification for Refugee Employees
Refugees typically acquire their Employment Authorization Document (EAD Card, or form I-766) shortly after they arrive to the United States.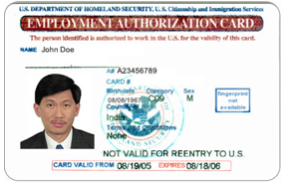 Name: Name of the cardholder who is authorized to work. Last, First, Middle
A#: Alien Number. Any foreign-born individual who is authorized to work in the U.S. will have an alien number.
Birthdate: Birthdate of the cardholder
Category: The category under which this person was eligible to receive the EAD card
Sex: Gender of the cardholder. M/F (Male/Female)
Country of Birth: This could be different from the country of citizenship
Terms and Conditions: If there are any restrictions, terms or conditions related to the cardholder's status or employability, they would be listed here
Expiration Date: Please note that the cardholder continues to be work eligible beyond the expiration date. Refugees should have a social security card and/or their permanent resident card by this date, both of which satisfy the documentation requirements of the Form I-9.
Contact job developers in your region for more information:
Louisville
Kentucky Refugee Ministries
Eric Blair
Job Developer
(502) 479-9180 ext. 540
eblair@kyrm.org
Catholic Charities of Louisville- Migration and Refugee Services
Becky Burnside
Employment Services Manager
(502) 636-9263 ext. 201
bburnside@archlou.org
Jewish Family and Career Services
Kristina Mielke
International Career Specialist
(502) 452-6341 ext. 229
KMielke@jfcslouisville.org
Lexington
Kentucky Refugee Ministries
Alisher Burikhanov
Employment Counselor
(859) 226-5661
aburikhanov@krmlex.org
Bowling Green
International Center
Kelly Rice
Employment Program Manager
(270) 781-8336
kellyrice@wkrmaa.org
Community Action of Southern Kentucky
Heath Ray
Refugee Program Coordinator
(270) 783-4484 ext. 222
hray@casoky.org
Owensboro
International Center
Susann Bartlett
270-683-3423
susann.bartlett@wkrmaa.org
Owensboro Community and Technical College
Emily Woodward
TAG-D Refugee Employment Services Coordinator
270-686-4579
Emily.woodward@kctcs.edu